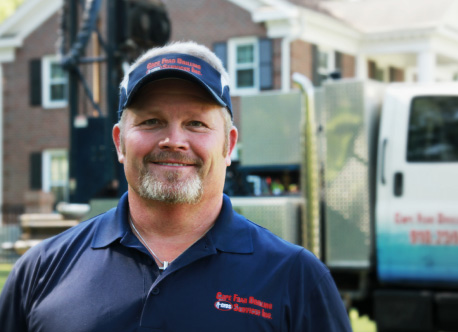 About Us
Why Choose Cape Fear Drilling Services?
Cape Fear Drilling Services (CFDS) provides our customers with professional water well drilling, geothermal, pump and conditioning services and products of the highest quality. Our mission is simple. Cape Fear Drilling will fulfill your water and drilling needs with respect, integrity and superior customer service.
We are family-owned and operated and our team has been serving south eastern NC since 1991. Our team has decades of combined drilling/water works experience. Cape Fear Drilling Services credentials are listed below.
We also provide geothermal drilling. Geothermal heat/air/water heating/cooling systems save our customers money on heat and air bills and/or irrigation and offer greener more efficient and environmentally friendly systems. *Additional options include hand pumps and solar powered pumps for daily use and in times of emergency.
Learn more about Our Services
See What Our Customers are Saying
I've been very satisfied with the estimates, plans and work provided by Chris. Chris is professional, competent and I recommend him.
Ken Pond
Homeowner - Landfall, Wilmington NC