Well/Pump Maintenance
Well & Pump Maintenance Services
"95% of all major service calls result from a lack of ongoing maintenance."
With today's technology, properly constructed and maintained well/pump can provide you with many years of service. We offer service maintenance agreements to ensure proper operation and prolong well life, which can also prevent costly equipment repair and inconvenience. It is our goal to provide both savings and peace of mind by helping your system perform safely and efficiently. Safe, efficient, consistent performance allows well/pump owners to focus on the most important aspects of their lives and businesses. It reduces the occurrence of untimely water usage interruption and expensive replacement and repair. This includes preventing possible pump and/or well damage and water contamination.
---
"We recognize that life is precious. And, we are committed to making your well/pump service or installation as seamless as possible, so that your moments may be full of the things that matter most."
---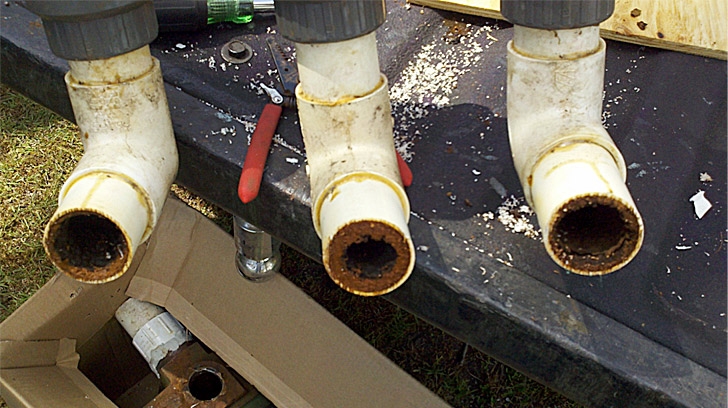 Water flow was extremely restricted due to the growth of iron bacteria. This picture was taken on a repair call that could have been avoided with proper maintenance.
---
Maintenance Programs
We suggest one or more evaluations per year, depending on purpose (either residential, commercial or farm) and usage. Maintenance evaluations consist of:
Checking your pump/well system.
Assessing it for signs of wear, damage and/or potential problems.
Reporting all components not working within normal limits to homeowners in writing.
CFDS will provide an expert recommendation for addressing any issues identified
According to the National Ground Water Association ( NGWA), wells tapping ground water resources can provide drinking water of the highest quality. Owning private household, commercial or farm water wells allows homeowners to control their own water. Ownership also comes with the responsibility of keeping the water well in good working order. CFDS is here to help you with that responsibility.
What are you interested in?