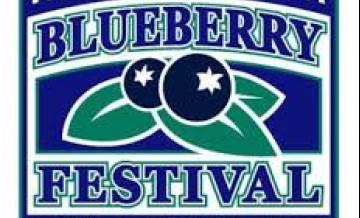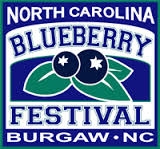 Cape Fear Drilling Services (CFDS) extends sincere thanks to all of the folks who made our participation in the 2015 Blueberry Festival possible. Special thanks goes to Pete Cowan, former Mayor of Burgaw; Bob Hugh Corbett, Attorney at Law; and Robert Cramer, CFDS Driller, with his daughter Emaley. Mr. Cowan graciouslyencouraged our participation in the festival early in the spring.Mr. Corbett let us use the corner of his parking lot, which was no small inconvenience, while Emaley cheerfully volunteered to hand out water and pamphlets all day. Robert helped set up the booth and stayed there for the duration. He actually ended up walking all the way from the post office to the ice machine on 117 to help fill water tubs with ice early Sat morning. Walking ended up being much faster than driving with the increase in festival traffic. Talk about dedication-Robert's extra effort helped us stay on schedule!
Chris Deal, one of the owner's of Cape Fear Drilling Services joined Robert in braving the heat while chatting with everyone who stopped by to find out about water and geothermal wells, pumps installation/service and water conditioning, not to mention those folks who just stopped by to grab some water or steal some ice. Meanwhile the booth provided front row seats and allowed our guys to take in the tunes from several bands including North Carolina singer, Bryan Mayer.
Many kind folks offered to buy our water and even tried to pay for it as an expression of gratitude, but the drillers were glad to be able to provide cool drinks free of charge. It was so hot, one lady even swiped up the ice that we dumped on the ground at the end of the day. We really enjoyed meeting so many friendly faces including local law enforcement, citizens and visitors alike, and we appreciated the opportunity to participate in the 2015 Blueberry Festival. Hopefully, we will see you next year!